Leading Source for Fire Safety in Rockland County, NY
Learn more about Campbell Fire Protection Inc. to discover how we can ensure fire safety in Rockland County, NY, and throughout the Tri-State area. Speak with us for 24/7 emergency service to meet your needs.
Our Background
We have an 81-year history of working closely with our clients and forming long-term relationships. Our customers and their satisfaction are our priorities. We thoroughly inspect and assess your fire service and protection needs and discuss all options with you.
As a leading fire protection service throughout the surrounding counties, our modern company focuses on maintaining traditional values. With a focus on continuing education and training, we stay updated on new fire and safety methods, products, and techniques.
Our History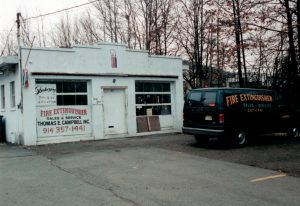 Thomas Campbell started Campbell Fire Protection Inc. in 1937 in Suffern, NY. Thomas began selling fire extinguishers door to door. As the business grew, his son and wife became involved, and fire extinguishers became the family business. Thomas's son, Bruce, took over when he retired, and Bruce ran the business until 1996 when Joe Duffy became the company's president and CEO.
Since 1996, Joe's leadership and vision for the company have led it to evolve and become the full-service fire protection company it is today, encompassing all aspects of fire protection, and serving the entire Tri-State area.
Committed to Fire Protection
We partner with numerous nationally-recognized fire protection associations. Our partnerships with these associations ensure that we continuously remain current on the most up-to-date legislation, codes, regulations, and trends in the industry.
Contact us to find out more about your fire protection options. We offer leading solutions for customers throughout the Tri-State area, including the installation of a comprehensive fire suppression system for commercial customers.